Evidence-based Navigation of Northern Medicine
September, 2023 Yellowknife Northwest Territories
Interested in joining us at PEER North 2023
If you missed out on the inaugural 2022 event, sign up here to receive notifications about September 2023
If you joined us in 2022, you will be contacted about registration next year.
Schedule of Events 2022 Conference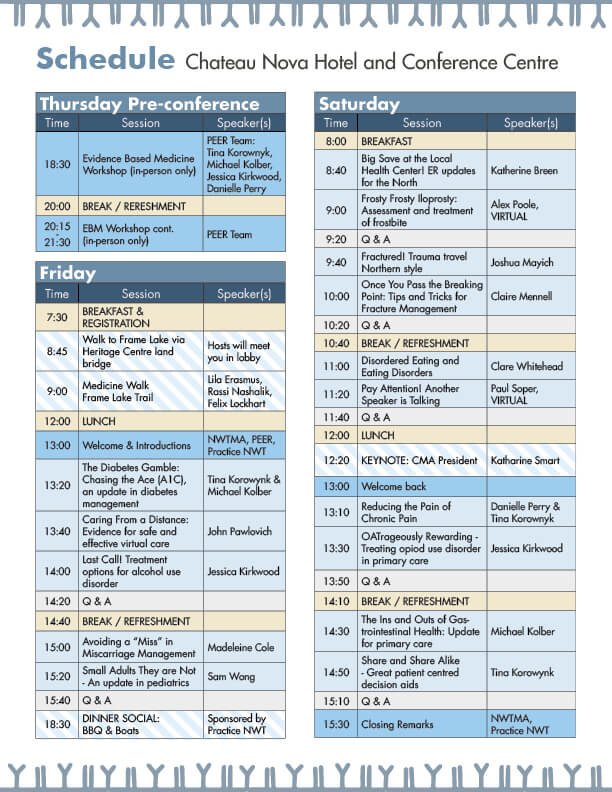 This 1 credit-per-hour group learning program has been certified by the College of Family Physicians of Canada for up to 10 Mainpro+ credits.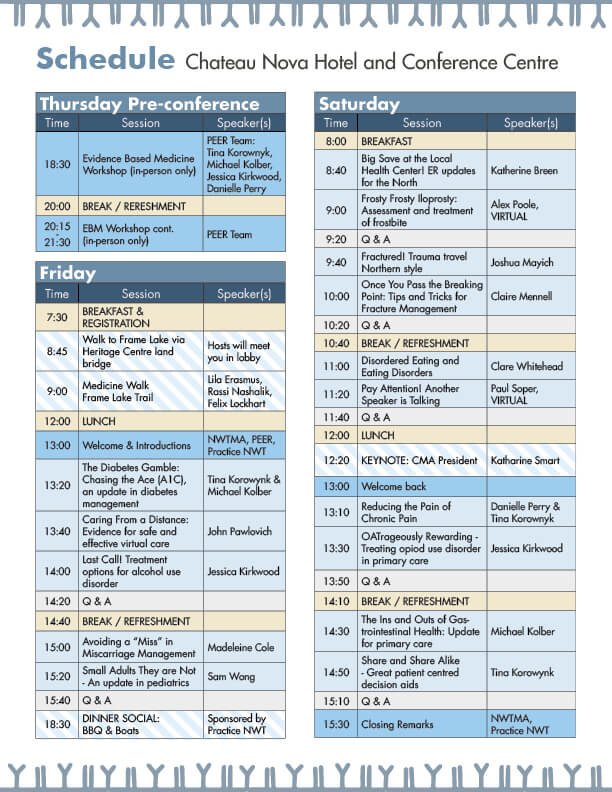 CFPC MainPro Cert+ application for conference credits is in process.
Registrants will have access to conference recordings.
Evidence Based Medical Workshop (EBM)
Thursday September 22nd, 18:30 - 21:30
Excellent or Excrement: Guide to Sorting Out Research Claims
PEER Team: Danielle Perry, Mike Kolber, Tina Korowynk, Jessica Kirkwood
In this highly interactive workshop, participants will learn to confidently review clinical papers, and understand key evidence-based medicine principles. Focusing on randomized controlled trials and systematic reviews, participants will learn how to understand meta-analyzed results as well as methods of quickly appraising articles for quality and usability. Mathematical concepts such as relative and absolute risks, and numbers needed to treat, will be explained and practiced. Finally, tips for efficiently navigating medical literature will be discussed.
NOTE: This workshop has pre-conference homework to be completed prior to attending. In-person only.
common misinterpretations in evidence

tricks to quickly sort out key findings

how to make using evidence less overwhelming
UPDATE
This workshop is now SOLD OUT.
Medicine Walk
Friday September 23rd, 09:00 - 12:00 - Somba K'e Park
We are grateful to have recruited these three well-respected indigenous leaders to share their wisdom with us as we walk around Frame Lake Trail.
Spending time on the land with these Elders and knowledge keepers will provide the group with a glimpse into alternate ways of knowing and communicating. It is a short, but sweet and deep course in cultural competency. This kind of teaching is not easily forgotten and has a tendency to come to mind when communicating with indigenous patients. It is a once-in-a-lifetime opportunity.
Friends and family are welcome to join us.
Friday Night Social - BBQ & Boats
Friday September 23rd, 17:00 - 22:00
Come and join your fellow PEER North attendees for a fun, family-friendly social event at The Garden; Yellowknife's premiere indoor/outdoor venue in the historic Old Town area of Yellowknife.
Throughout the evening, while you enjoy snacks, a barbecue-style dinner, and dessert groups of 5 people will disembark from The Garden dock and take guided boat tours of the Yellowknife Bay to see the famous Yellowknife houseboats.
Don't miss out on this unique and excellent opportunity to socialize with your fellow attendees at the indoor tables, on the outdoor deck, out on the back lawn in the outdoor banquets or gathered around the fire pits, and on a boat ride. By the end of the evening you may even be able to see the northern lights!
* Cash bar available.
UPDATE
Register before September 8th to attend the BBQ social.
Meet our Partners
Thank you for supporting Northern Healthcare!